FAQ
Q: Can I get replacement part from you?
A: Yes, we can offer replacement top part, bottom part or other accessory part for your broken bongs & pipes. You can send your product photo or SKU to our customer service via email and we will provide solutions for you.
Q: How long do I need to freeze the coil for and do I need to be concerned about it breaking in the freezer if I forget to take it out?
A: We recommend freezing the coils for 1-hour, but if you just wanted a few quick hits you can go shorter. It's okay to leave the glycerin coils in the freezer in 24 hours. Glycerin doesn't expand / contract like water so there's no added pressure on the glass.
Q: How much is the shipping cost?
A: We offer Free shipping by USPS for all of our U.S. orders, Alaska, Hawaii and Puerto Rico are excluded.
For international orders and orders from United States of Alaska, Hawaii and Puerto Rico, we provide free shipping by DHL express for order over $99. If your order is below $99, you need to pay $20 for the shipping fee by DHL.

Note: we do not provide free shipping for wholesale orders.
Q: How long is the delivery time?
A: After your order is shipped out, the delivery time to U.S. by USPS is around 13-20 business days, while the delivery time by DHL is 7-10 business days. The shipping time depends on the shipping conditions. We will pay attention to your order until you receive it.
Q: How to change the billing address and shipping address?
A: Login in your account, then find "Manage Address Book" and click. Select "Your Billing Address" and edit the correct billing address. After that, don't forget to click "Save".
If you'd like to change your shipping address, you can select "Your Shipping Address" and edit it.

Note: If you want to change the shipping address of your paid order, please send us your order NO. and the correct shipping address to our customer service via email and we will help you to change it.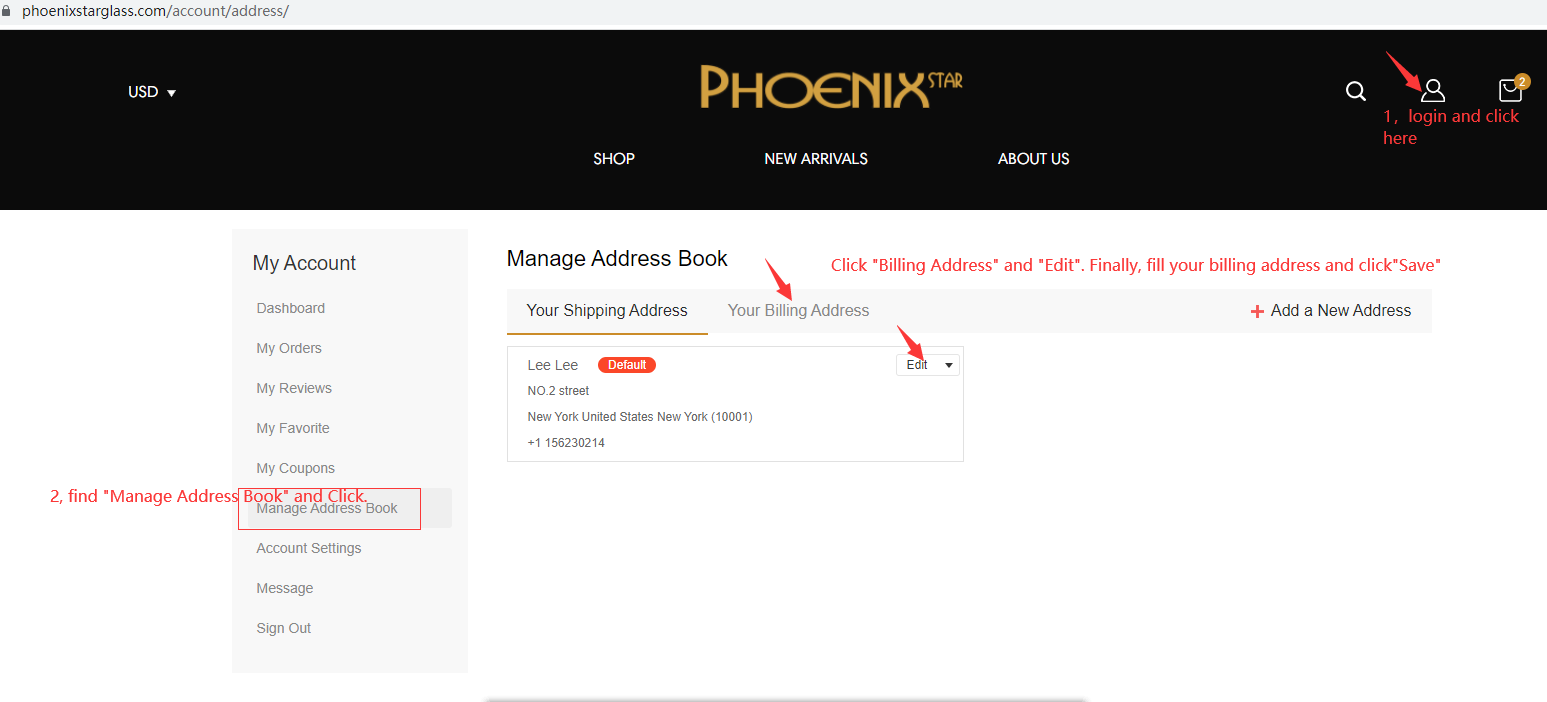 Q: Can I pay extra for faster shipping?
A: Please send us your order NO, and we will check and update the shipping cost for your order.
Q: Can you offer me the USPS tracking number?
A: Please send us your order NO to our customer service via email and we will check and reply to you soon.
Q: Why I can't find my package information on USPS?
A: For orders on our website, we cooperate with the shipping agents, not directly with USPS. We send the parcels to our shipping agent who will help us deliver them to U.S. After the parcel arrives in your country, USPS will pick them up and send us the USPS tracking number, then you can track it at https://www.usps.com/.
Q: How much water should I put in Phoenix glass bong?
A: About the water level, please cover the slits and holes of bong downstem and percs with water. This step ensures you're taking full advantage of the glass bong's filtration. More water in the glass pipes is also ok as long as it's not splashing your lips. Someone like a lot of water so the smoke travels through more water and cools down more. So you can try it out and find your own sweet spot.

Notes: Too much water will cause a bit more drag and resistance when you inhale.
Q: Why is the amount of my payment greater than the product price?
A: The Grand Total amount is products price + Shipping Charges + Service Charge.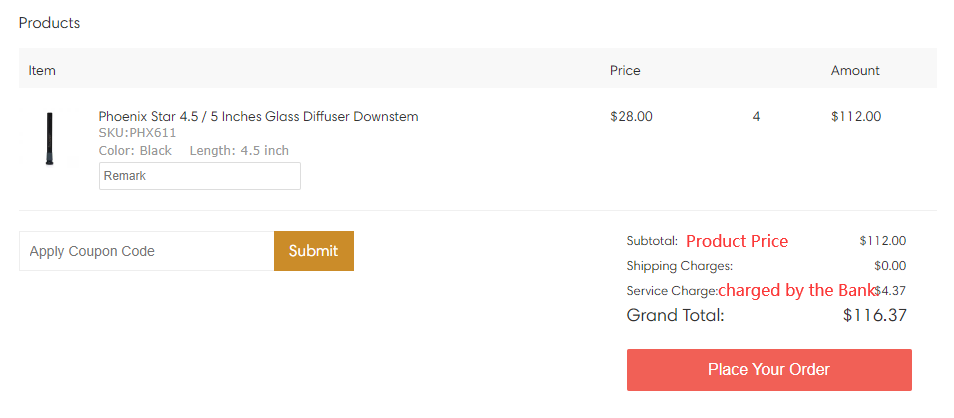 Notes: The service charge is charged by the bank.